You are here:home > 未分类 > Pruduct's Detail
FAW Toyota begins selling Toyota 86 sports car in China
By Carmen Lee From Gasgoo.com
March 14, 2013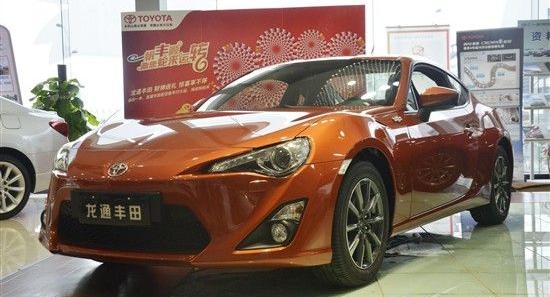 Gasgoo.com (Shanghai March 14) – The Toyota 86 has finally reached China, with FAW Toyota officially beginning sales of the imported sports coupé earlier this week, the National Business Daily reported today. The Toyota 86 is available with both automatic and manual transmission options, with prices ranging between 269,000 yuan and 279,000 yuan ($42.905-$44,500).
FAW Toyota hopes that the Toyota 86 (pictured), which is prominently figured in the Initial D manga and video game series, will help attract younger buyers. The 86 is one of the first models in Toyota's new development strategy for the Chinese market. The joint venture aims to sell 3,000 86 sports cars in the country this year. The JV is also prepared to increase import amounts if consumer demand is high enough.
In other news, earlier this week, FAW Toyota announced its upcoming own brand, named Ranz. The own brand's first model, a pure electric vehicle, is anticipated to make its worldwide debut at next month's Shanghai International Automobile Industry Exhibition.