You are here:home > 未分类 > Pruduct's Detail
Summary: 2012 sales target completion rates for major passenger automobile manufacturers
By Carmen Lee From Gasgoo.com
January 27, 2013
Gasgoo.com (Shanghai) – Only ten of China's 25 major automobile enterprises managed to successfully achieve their sales targets for 2012, statistics collected by Gasgoo.com (Chinese) revealed. Among them, none of the Sino-Japanese joint ventures completed their scheduled sales targets.
Changan Ford Mazda, FAW Volkswagen, Dongfeng Fengshen, Shanghai General Motors, Beijing Hyundai, Geely Automobile, Great Wall Motor, Dongfeng Yueda Kia, SAIC Motor and Shanghai Volkswagen were the ten enterprises that completed 100 percent of their sales goals for the year.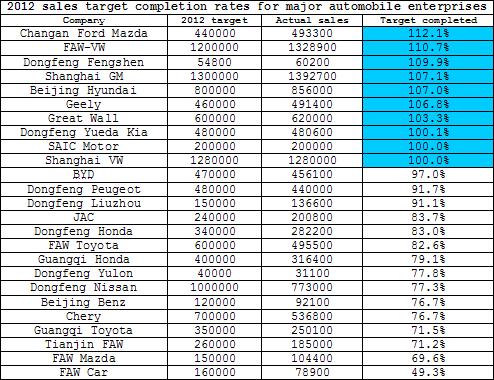 China's 'big three' automobile enterprises–FAW-VW, Shanghai GM and Shanghai VW–all fully completed their sales goals last year. Although FAW-VW's goal of 1.2 million sales was the lowest of the three, it was still 16 percent more than the amount it sold in 2011. Shanghai GM's goal, which was set at 1.3 million units, was the highest, but only 5.6 percent higher than its actual sales volume from the previous year. Shanghai VW's 1.28 million sales target represented year-on-year sales growth of about ten percent.
Of the three joint ventures, FAW-VW exceeded its target by the largest margin, selling a total of 1.32 million vehicles, 28.4 percent more than its 2011 sales record. It was followed by Shanghai GM, which exceeded its sales goal by 7.1 percent and whose sales grew 13.2 percent from 2011 to 2012. According to its released statistics, Shanghai VW only just managed to meet its sales result for the year. However, many analysts speculate that the JV has hidden a portion of its sales in order to boost its performance for January. They point to the fact that Shanghai VW reported selling just 75,000 vehicles in December, far under its usual monthly levels.
FAW-VW announced a sales goal of 1.5 million vehicles for 2013, which is the highest target to have been set by a manufacturer in the country. Shanghai GM and Shanghai VW have targets of 1.45 million vehicles and 1.42 million vehicles, respectively.
Changan Ford Mazda, Beijing Hyundai and Dongfeng Yueda Kia were the other Sino-foreign JVs that managed to successfully complete their yearly sales targets. Changan Ford Mazda performed especially strongly, managing to surpass its sales target by 12.1 percent. The joint venture, which sold a total of 493,300 vehicles over the year, attributes this success to the warm reception its new Focus has received in the country. Beijing Hyundai and Dongfeng Yueda Kia sold 856,000 and 480,000 vehicles, respectively. Beijing Hyundai has finally set a goal of one million sales for 2013.