You are here:home > 未分类 > Pruduct's Detail
Summary: Chinese bus market in 2012
Gasgoo.com (Shanghai) – The bus market in China was one of the biggest beneficiaries of drives to limit private automobile use and encourage public transit usage last year. Several factors, such as the further spread of policies restricting the number of new vehicle registration to Guangzhou and other cities, played their part in stimulating steady growth in the market. However, the poor macroeconomic conditions affecting the overall Chinese commercial vehicle market prevented the country's bus sales last year from reaching full expectations.
According to statistics collected by Gasgoo.com (Chinese), a total of 425,600 buses were sold in China in 2012. The figure represents positive year-on-year sales growth of 5.5 percent, which is notable considering sales in the commercial vehicle market as a whole fell last year. However, the growth rate last year was still lower than the 13.3 percent rate achieved in 2011, and fell eight percent short of preliminary industry expectations. Overall poor macroeconomic conditions were cited as the major reason behind the sales decline.
All three major bus segments experienced slight positive year-on-year sales growth over the course of the year, with large bus sales increasing 9.9 percent. Sales in the light bus segment grew 5.4 percent from 2011 to 2012, while the medium bus segment increased just 1.5 percent.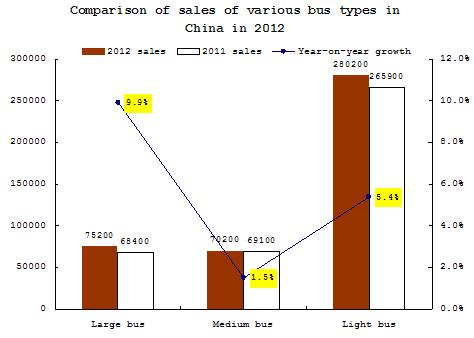 Looking at differences in market distribution between the three segments, the large bus market surpassed that of medium buses in 2012, while the percentage of the market held by light bus sales remained virtually the same.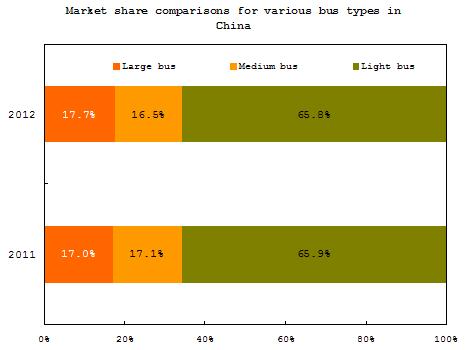 The Zhengzhou Yutong Group was once again 2012's largest large bus manufacturer, followed by Suzhou's Higer, King Long, Anhui's Ankai Automobile, Xiamen's Golden Dragon, SG Automotive Group, ZhongTong, Youngman Automobile Group, Shanghai's Sunwin and Beiqi Foton. The largest change with the rankings last year was Ankai's surpassing Golden Dragon to claim fourth place.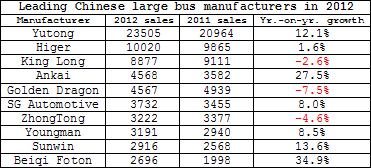 Three of the above manufacturers, King Long, Golden Dragon and ZhongTong, experienced sales decreases from 2011 to 2012. All the other manufacturers reported positive year-on-year sales growth, with Beiqi Foton's 34.9 percent increase being the largest. Leader Yutong's 12.1 percent increase was also notable, as it was far ahead of most other manufacturers in the segment.