You are here:home > 未分类 > Pruduct's Detail
Summary: Chinese passenger automobile sales in January
By Carmen Lee From Gasgoo.com
February 27, 2013
Gasgoo.com (Shanghai) – According to statistics released by the China Association of Automobile Manufacturers, Shanghai General Motors once again took number one spot as the country's top seller of passenger automobiles in January. It was followed by Shanghai VW, FAW-VW, Beijing Hyundai, Dongfeng Nissan, BYD, Geely, Great Wall, Dongfeng Peugeot Citroën and Dongfeng Yueda Kia. Sales in general increased from December, with some manufacturers setting new monthly records. The upcoming Chinese New Year and annual bonuses many citizens were receiving from their jobs were among the factors that were responsible for higher passenger car sales over the month.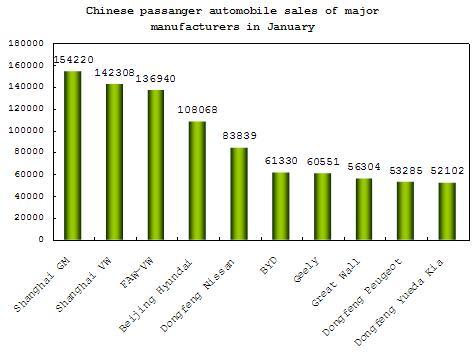 As with the previous month, three domestic own brand manufacturers managed to place in January's top ten ranking: BYD, Geely and Great Wall. The first two managed to both break the 60,000 monthly sales barrier for the first time. The three manufacturers' sales for the month totaled 61,339 vehicles, 60,551 vehicles and 56,304 vehicles, respectively. BYD's performance was especially noteworthy, and marks its second consecutive month as the best performing domestic own brand manufacturer in the Chinese market. Chery once again failed to place in the charts.
Among the Sino-foreign joint ventures on the list, Shanghai GM led the pack with 154,220 passenger automobile sales. Shanghai VW and FAW-VW sold 142,306 vehicles and 136,940 vehicles in January, ranking as the month's second and third best performing passenger automobile enterprises, respectively.
Beijing Hyundai sold a total of 108,100 vehicles in the month, finally exceeding the 100,000 sales barrier.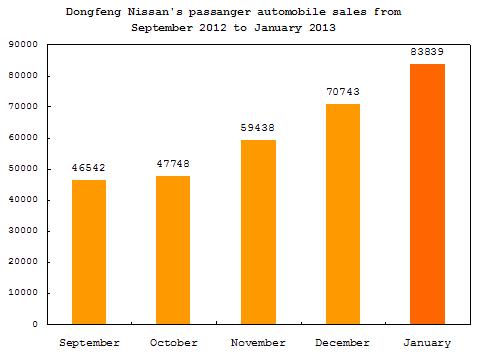 Dongfeng Nissan continued to show strong signs of recovery in January, with its sales increasing from 70,743 vehicles in December to 83,839 vehicles. The figure stands just short of its all-time monthly sales high of 84,300 vehicles made last June.
Dongfeng Peugeot and Dongfeng Yueda Kia's respective sales of 53,300 vehicles and 52,100 vehicles also represented new monthly records for the two JVs.