You are here:home > 未分类 > Pruduct's Detail
Summary: The growing Chinese automobile market from 2002 to 2012
By Carmen Lee From Gasgoo.com
February 26, 2013
Gasgoo.com (Shanghai) – The Chinese automobile market has made significant strides over the last decade. Beginning with its entry to the WTO in 2001, consumer demand for automobiles was unleashed. Yearly sales have jumped from 1.26 million vehicles in 2002 to 13.09 million last year, with year-on-year growth averaging 26.4 percent.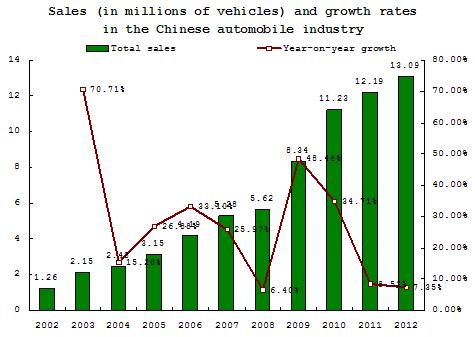 Looking at year-on-year growth rates for the last few years, sales growth in the country was largest in 2009 and 2010, when it reached highs of over 30 percent, with over two million new automobile sales being made on a yearly basis. Since then, economic stimulus policies have been phased out and demand has decreased, leading to large drops in sales growth rates. Sales increased just 8.52 percent in 2011 and 7.38 percent last year.
Reviewing the changing percentage of market share held by various automobile types also sheds light on the development of the industry in China. In particular, SUVs have grown from being a very minor automobile choice in 2002 to the country's third most popular vehicle type last year. On those lines, yearly SUV sales have increased from 47,300 units in 2002 to just over two million units last year. Several in the industry attribute this shift to the new demands of younger consumers, which has led many manufacturers to release more SUV models than in the past.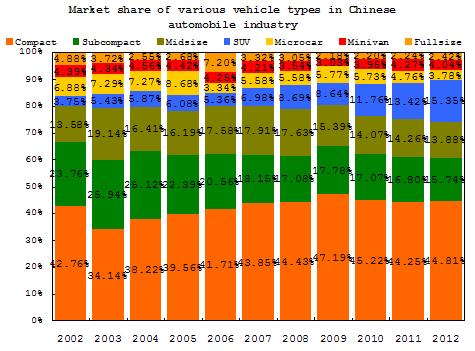 Sales of midsizes and compacts were slightly higher last year than they were in 2002. By comparison, subcompacts' share in the market has decreased continuously over the years, dropping from 23.76 percent in 2002 to 15.74 percent in 2012, when subcompact sales totaled 2.06 million units. Rising income levels are viewed as a major factor behind the shift in consumer attitudes over the decade.